Bed Bugs Control Services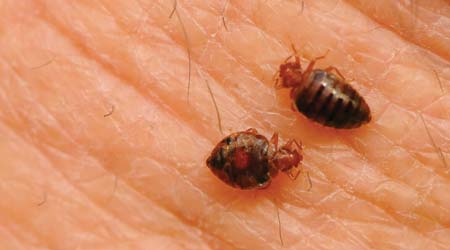 Types of Bed Bugs in the UK
Bedbugs (not be confused with bed mites) can be a real nuisance. These insects can live in and around your bed, feeding on the occupant without their knowledge.
Adult Bed Bugs resemble a small brown disc, measuring up to 6mm in length. It is wingless but the legs are well developed and it can crawl up most vertical surfaces. Their elongated eggs are cemented in cracks or crevices close to the hosts (which for Bed bugs are humans). The early stages of the Bed bug (nymphs) are tiny making them hard to detect with the naked eye.
Signs of an infestation
Red irritating bites, typically in rows on your neck, shoulders, back, legs or arms.
Clusters or dark spots (about 1mm wide) that look like an ink dot are usually found on the bed frame or on the bottom side of the mattress.
Small blood smears on the bed linen or headboard.
Finding the small brown insects in and around your bed frame and sleeping area.
Pest Advice Dealing with Bed Bugs
This common pest once associated with unhygienic surroundings is prevalent due to a number of reasons, including increased travel, the use of second-hand furniture, and suspected tolerance to some pesticides.
These bugs still occur with regularity, particularly in multi-occupancy buildings with rapid resident turnover, for example, hostels, hotels, holiday camps and blocks of flats.
How to prevent Bed bugs
Avoid taking second-hand bedroom furniture without thoroughly checking. If you have stayed in an infested room, upon arriving home, immediately check your luggage and clothing for bugs. If you find Bed bugs, to remove the bugs and eggs from your luggage, clothing and bedding there are a few things you can do. Either; wash everything at a 'hot' (60°C) temperature setting; tumbled dry at a 'hot setting for at least 30 minutes; dry clean everything; or place everything into a bag and then in the deep freezer for at least 3 days.
For businesses such as hotels, a monitoring regime by Action Pest Control can help detect early signs. Training your staff in what to look for when they are cleaning and working within the rooms will detect a problem before a guest, protecting your reputations.
Satisfaction Guaranteed
We have over 20 years experience in the pest control industry with all our work is guaranteed
"Action Pest Control devised a complete pest control strategy which allowed us to comply with all regulations set down by the environment agency.  We have been working together for the past six years and will continue to do so. Well done."
Mr A
We have had a service contract with David Williams of Action Pest Control to the past eight years, as we run a busy farm shop confidentiality is a key issue, with customers unaware of any treatment is being carried out, nothing seems to much trouble for Action Pest Control.  Thanks.
Mrs S
Pest Control Contracts
A full service contract gives you reassurance and peace of mind
Regular visits by our pest technicians
Pest proofing
Having eradicated your pests, it is important to prevent further access
We ensure this no longer happens
We Supply and Fit
Fly screens
Electric Fly Killers
Chain Mesh Curtains
Action Pest Control
Pontybodkin, Mold, CH7 4TU
EMAIL US
info@actionpestcontrol.co.uk
Card Payments Taken