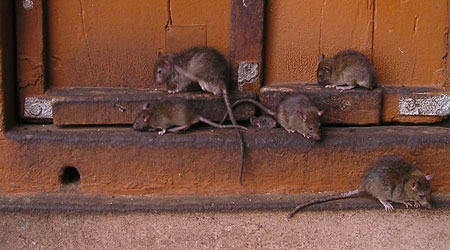 Rats in the UK
Brown Rats carry many nasty diseases which they can spread to humans, normally through their urine, including;
Leptospirosis or Weil's disease,
Salmonella,
Listeria,
Toxoplasma gondii and
Hantavirus
Pest Advice Dealing with Rats
Brown Rats can inflict a great amount of structural damage. They can cause serious fires by gnawing away the insulation around electrical cables, floods by puncturing pipes and even death by chewing through gas pipes. The insurance sector have estimated that rodent damage to wiring is responsible for 25% of all electrical fires in buildings.
Brown Rats can ruin an organisation's reputation. If clients and customers spot evidence of rodent infestation in the premises you manage, they are unlikely to want to do business with you.
Property owners have a legal obligation under the Prevention of Damage by Pests Act 1949 to keep premises rat and mice free
Satisfaction Guaranteed
We have over 20 years experience in the pest control industry with all our work is guaranteed
"Action Pest Control devised a complete pest control strategy which allowed us to comply with all regulations set down by the environment agency.  We have been working together for the past six years and will continue to do so. Well done."
Mr A
We have had a service contract with David Williams of Action Pest Control to the past eight years, as we run a busy farm shop confidentiality is a key issue, with customers unaware of any treatment is being carried out, nothing seems to much trouble for Action Pest Control.  Thanks.
Mrs S
Pest Control Contracts
A full service contract gives you reassurance and peace of mind
Regular visits by our pest technicians
Pest proofing
Having eradicated your pests, it is important to prevent further access
We ensure this no longer happens
We Supply and Fit
Fly screens
Electric Fly Killers
Chain Mesh Curtains
Action Pest Control
Pontybodkin, Mold, CH7 4TU
EMAIL US
info@actionpestcontrol.co.uk
Card Payments Taken